I love a good salad – the less lettuce the better. Here is a great crowd pleaser. Sassy with a kick of cayenne with a sweet cowgirl finish. This salad is great for a light lunch, a protein and fiber loaded side dish, or a potluck hit.
I love a recipe with a beautiful start.
And I love creating salads because they can be easily and deliciously personalized (aka: dump whatever's in your fridge in them).
For this dish I started with precooked quinoa. Added tomatoes, parsley (which I thought was cilantro! ha!), sweet potato, black beans, corn, and a lime vinaigrette. If you are short on time a squeeze of lime and olive oil or a spoonful of salsa would finish the dish well.
I can't wait for you to enjoy this delicious combo.
xx
Jerilynn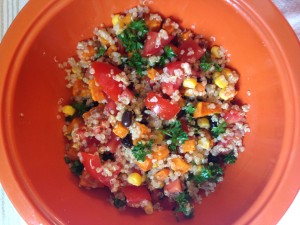 The Sassy Sally: Southwest Quinoa Salad
2016-04-06 16:19:26
Ingredients
1C Precooked Quinoa
1/4C Tomoatoes
2T Cilantro (optional)
1/2C Roasted Sweet Potatoes
1/4C Black Beans
1/4C Corn
Lime Vinaigrette
Lime Vinaigrette
1/2 Juice from Lime
Dash (or two) of Cayenne to taste
Dash (or two) of Chilli Powder
1/4t Garlic Powder
1t olive oil
A squeeze of honey to taste*
*The sweet potato adds plenty of sweet so shoot for tangy over sweet.
Instructions
Make lime vinaigrette by whisking all ingredients together until lime and oil are combined.
Add all salad ingredients to bowl, mix together, top with vinaigrette, gently mix until combined.
Worthy Fitness https://aworthyjourney.org/