Quick, Easy, and Versatile.
Food prep is a must for me — we are typically running out the door somewhere and coming back to the house with rumbling tummies.
If healthy options are not easily available… well there's quite a market for that. You don't have to walk far down a grocery store isle to find marketing gurus toting the ease of their grab and go options. And believe me, we have those options available and utilize them. But it's easy to get caught in the prepackaged trap.
Here are some of my favorite whole food options: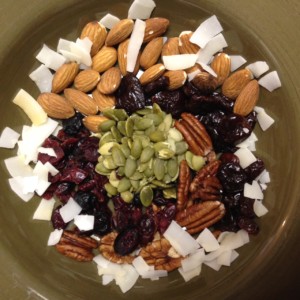 3 Handful Trailmix
1 Handful Raw Nuts (Almonds, Pecans, Cashews)
1 Handful Raw Seeds (Pumpkin, Sunflower)
1 Handful Fruit (Dried Cherries or a
Fresh Piece of Fruit)
A life saver when I know I am going to be out and about during the day — especially after a workout or any other time I expect to be hungry. I don't know about you, but I lose my mind when I'm hungry and don't have a plan. This is a great way to stay satisfied; so when you get to food you can make conscious, good choices. A great last minute grab – toss what you have into a snack bag or container and head out the door – with no questionable ingredients or fillers. If you are the organized type, you can pre-package them for an even easier option.
Hearty Carbs
I cook several cups of quinoa or rice for the week. I can add a 1/2 cup at a time to eggs, salads, as a side.
Roasted Vegetables
Set the oven for 425. Dice or slice vegetables, stir or flip after 10-15 minutes. Cook for a total of 25 minutes or until they start to brown / crisp.
My faves: Sweet potatoes, cauliflower, brussels sprouts, cabbage
This has been a game changer for me in the last two years as I navigate cooking for myself and my family at dinner time. I don't like to cook multiple meals to please everyone and I don't like to make exceptions for myself (Besides pizza night — more on that soon) because #1 it helps me push our family to eat healthier as a whole, #2 I keep my sanity. I eat pretty much the same dinner as my family, but I can easily swap my roasted veggies for heavier carb items (potatoes, pasta, rice, etc). Pre-roast a couple pans of your favorites (mine are: brussels sprouts, cauliflower, sweet potatoes, cabbage) so they are ready to add to any meal.
Check out my Sally Sally Southwest Quinoa Salad for a great way to incorporate quinoa and roasted sweet potatoes.
Easy Protein
Extra Meat:
During Dinner, I will cook a couple extra pieces of meat to dice up for a salad, or wrap.
Canned Black Beans:
Open – Rise – Eat. Yum.
I love to add them to prepared quinoa with avocado and salsa.
Hummus:
Dip with veggies for a healthy snack or add to a salad or sandwich for lunch.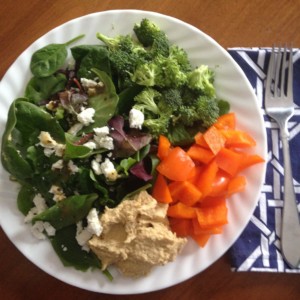 Again – for me it's got to be easy and versatile. When I come home from the gym I am typically hungry and if I don't have something healthy easily available, I go for what ever else is available. Having left over meat from a previous meal, opening a can of black beans or tuna, or having hummus or hard boiled eggs made are my go-to options and make lunch and snack options super quick, healthy, and delicious.
The items above are my personal preferences. They work well for me. Please see a your doctor or a registered dietician if you are looking to get a specific direction on a meal plan that is best for you.