Rachel Ray was a hit when I was first married and learning to cook for my poor husband. This meal from the "30 Minute" queen has been a family favorite for the last 10 years! If you love a baked ziti – try this delicious pesto flavored spin.
Slightly adapted as I've found short-cuts and preferences over the years.
Try making your own pesto!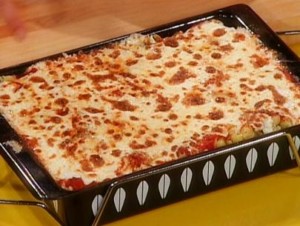 Tomato, Basil and Cheese Baked Pasta
2016-07-24 20:56:36
Ingredients
1lb Tube Pasta of Your Choice
Olive Oil
3 Garlic Cloves
1/4-1/2 Onion
1 (28oz) Crushed Italian Tomatoes
1/2C Basil Leaves
1C Pesto
1C Ricotta Cheese
1/2C Grated Parmesan Cheese
1C Grated Mozzarella Chesse
Instructions
Cook Pasta until just done -- al dente. Drain and return the pasta to the pan.
Add olive oil until it coats the bottom,1-2 tablespoons. Mince the garlic and dice the onion and add the the heated pan, stir and cook until the onions are translucent. Add the tomatoes, lower heat one the mixtures starts to simmer. Add salt and pepper to taste, then add shredded basil leaves once heat is lowered.
Place a rack in the middle position. Preheat Broiler on High.
Meanwhile, add the pesto and ricotta and 1/4C of Parmesan. Stir until mixed, then pour into a greased casserole dish. Top with tomato sauce, then sprinkle the mozzarella and remaining 1/4C Parmesan cheese over the dish.
Bake until the cheese melts and starts to bubble, 3-5 minutes.
Notes
*Image is from the original recipe post on foodnetwork.com
Adapted from Rachael Ray
Worthy Fitness http://aworthyjourney.org/